HousingWire's annual conference aims to connect mortgage lenders and real estate professionals across the country to "share strategies, drive business, discover new technologies, discuss best practices and meet industry leaders." I'd say they did just that! Here is my quick recap of HousingWire Annual 2022.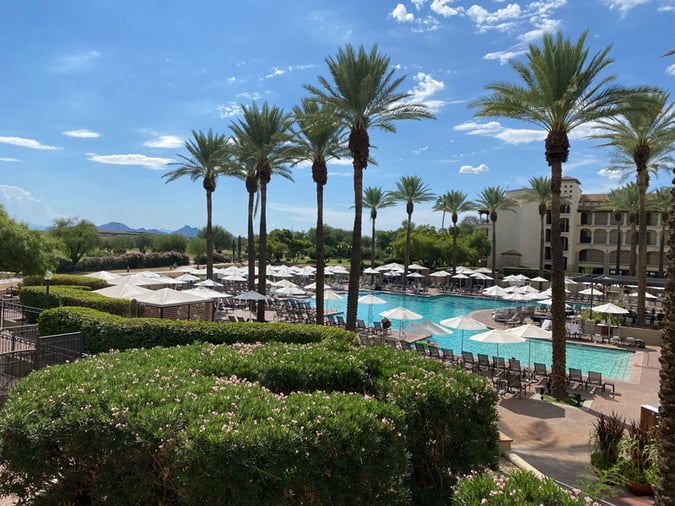 HousingWire Annual 2022 was held at the Fairmont Scottsdale Princess in Scottsdale, Arizona. The 65-acre luxury resort boasted the most beautiful desert views and lent itself well to the conference with numerous work and meeting spaces.
The first day kicked off with the Marketing Leaders Success Summit, which included a keynote session by Tamsen Webster, who focused on how to create a "messaging moment of truth." She explained that what's logical to us in mortgage lending isn't necessarily logical to our customers. She referenced Aristotle's three-act screenplay structure as a notable story-telling model, Dr. Aaron Beck's "you feel the way you think" theory, and the term "syllogism."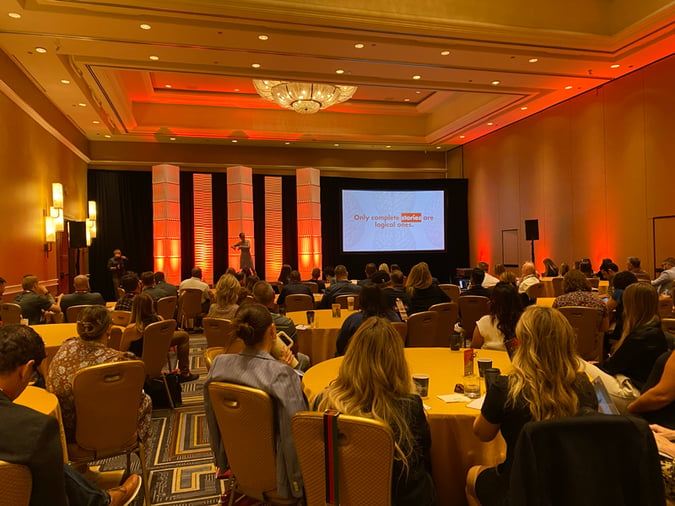 If you're a product marketer, I found this session particularly helpful for positioning copy and recommend checking out her book: Find Your Red Thread.
The Summit then included a series of informative sessions. Here are some of my notes on each.
The Marketing Strategies of M&A session included leaders from Arch MI, NewRez, OJO, and Champions Funding LLC. The panel discussed the necessity of extensive analysis (buyer journeys, campaigns, and communications) when merging brands. Bijoy John, SVP of Marketing at NewRez, recommend that anyone involved in merger or acquisitions "let data lead decisions."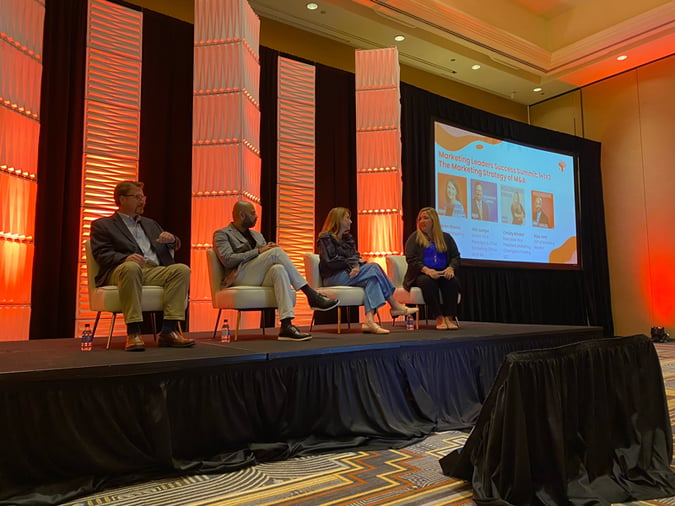 The Social Media Lessons session included leaders from Fairway Independent Mortgage Corporation, All Western Mortgage, Denim Social & Chelsea Peitz Consulting. The panel discussed how impactful social media could be for lenders who leverage it with the help of their Marketing and Compliance teams. They recommended coming up with "simple, quick and easy to execute" video ideas that educate homebuyers alongside personal content that help build branding and establish a sense of community.
When asked about recommended strategies for using social media as a selling tool, Arjun Dhingra, Sales & Business Development at All Western Mortgage, encouraged lenders to stay focused on their purpose and create consistently - regardless of what the market is doing.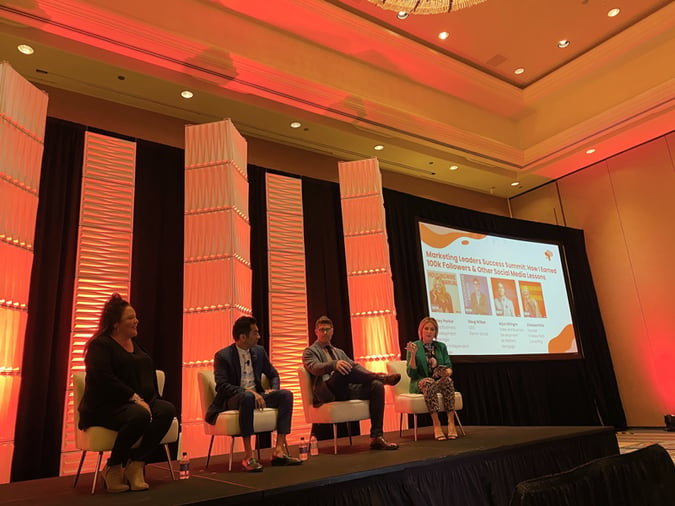 The Future of Marketing session included leaders from Lender Price, EscrowTab, ICE Mortgage Technology, Realty ONE Group, and HW Media. The panel agreed that the Sales and Marketing alignment is paramount to success for mortgage lenders and mortgage technology partners.
Sara Holtz, VP of Demand Marketing & Communications at ICE Mortgage Technology, recommended that marketers "focus on results, not activity." Amy Moses, VP of Marketing & Communications at EscrowTab, agreed with Sara and shared her tactic of capturing "key wins and key learnings" to ensure her team was measuring every effort along the way. The group acknowledged the budget declines associated with 2022's turbulent housing market but encouraged leaders to continue prioritizing marketing to educate homebuyers and build trust.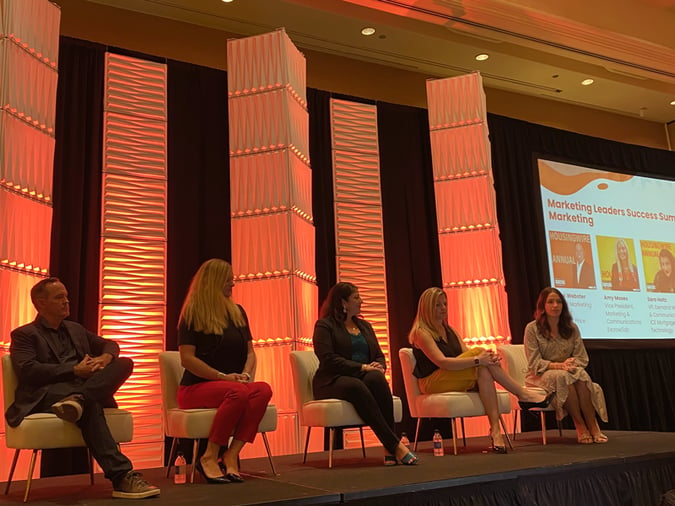 The Women of Influence Forum followed the Marketing Leaders Success Summit and kicked off with the CEO of Guild Holdings Company, Mary Ann McGarry. She shared a bit about her career milestones and how being a woman in the field impacted her journey. A notable quote from Mary Ann: "Egos get in the way of good decisions." It was an enlightening session that set the foundation for the rest of the forum's speakers. Panel discussions around women mentorships, work-life balance and the power of peer review groups followed.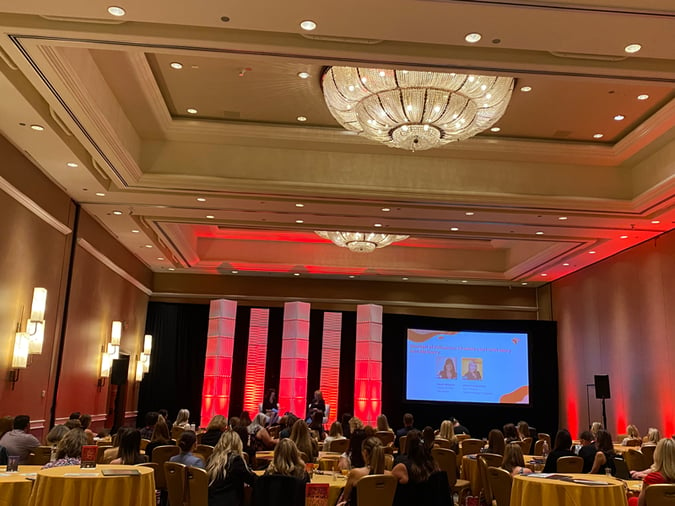 As a young woman new to the mortgage industry, this was exactly what I needed to light my fire and fill my cup. I'm grateful for the leaders who shared their stories and insights, including professionals from: Western Union, Lennar Mortgage, Digital Risk, Aslan Home Lending, Bank of America, Finance of America Companies, Love and Tacos Media, Side, The Money Source Inc, ServiceLink, Fairway Independent Mortgage and, of course, HW Media.
The day concluded with a big welcome reception and an after-party with cigars, cocktails, flaming coffee, and hours of networking with fellow attendees. It was the perfect start to the conference! If you're a foodie like me and find yourself in the Scottsdale area, La Hacienda was phenomenal, and I highly recommend the lobster tacos or the taco & tequila pairing entree!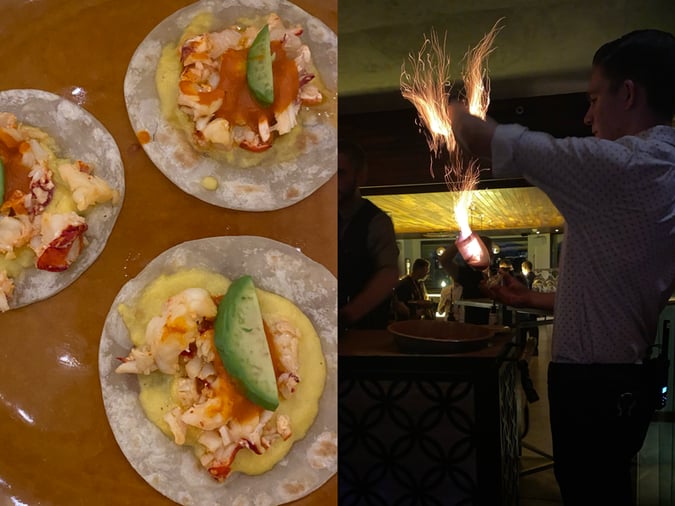 Day two (or one, technically) of HousingWire Annual 2022 started with keynote speaker Ryan Serhant. He emphasized the importance of manifesting the future you want for yourself - whether you're a lender or a real estate agent. He spoke about starting his own company, the trials and tribulations he faced along the way, and some strategies he used to see continued success.
One of my favorite takeaways was the "three fives outreach strategy." Ryan shared that he reaches out to 15 different people daily by setting aside 3 scheduled activities in the morning, afternoon, and evening - send 5 texts, make 5 calls, send 5 emails. That's an excellent habit for anyone in Sales or Marketing - as it's a people business first and foremost.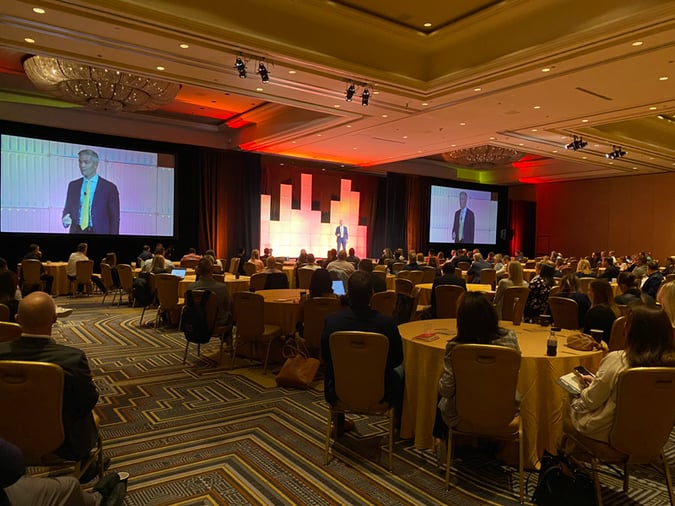 Leaders from Snapdocs, Mason-Mac, and PRMG, Inc. kicked off the first session for lenders with Margin Compression - truth or trendy? Spoiler alert: the feedback was unanimously TRUTH. It may be "trending," but it's undoubtedly real. Chuck Iverson, President at Mason-Mac, encouraged that while there is "lots of disruption, there is still a lot of opportunity too."
Kevin Peranio, Chief Lending Officer at PRMG, Inc, agreed. He added that the lenders who will come out of this market dip successfully will have put a focus on "shepherding their teams and using tech to get more out of staff, avoiding replacing them or letting them go altogether." There was even mention of Simon Sinek's The Infinite Game, as the panel agreed that lenders must have an "in it for the long haul" mentality.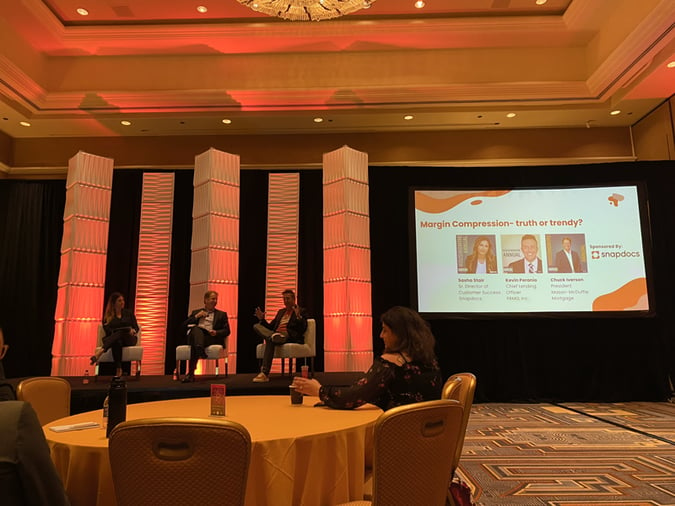 The Regulatory Super Session that followed included leaders from Housing Finance Strategies, the U.S. Department of Housing & Urban Development, the National Association of REALTORS, the Bureau of Consumer Financial Protection, and Stavvy. The panel talked about new considerations for good renting history, how race and ethnicity have negatively impacted appraisals, and how this is the most they've ever seen an administration focus on housing.
The next session, Future of Lending, led by Sales Boomerang and Mortgage Coach, was very engaging! Alex Kutsishin, Chief Visionary Office, and Dave Savage, Chief Innovation Officer, shared their career stories with the audience and dove into their new borrower intelligence platform for lenders. They illustrated how many lenders (and Realtors) could use the data they already have to pinpoint who in their ecosystem is ready to purchase - based on life events, improved credit scores, online shopping activity, and more. It was an incredible glimpse into what they envision the future of data segmentation could be.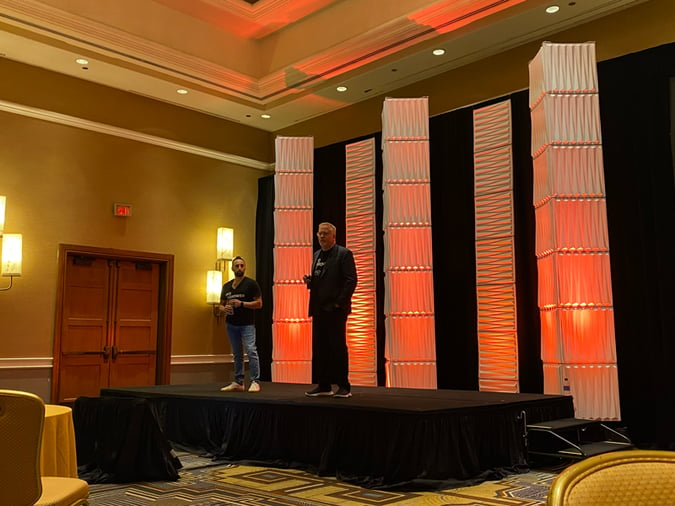 Spencer Rascoff, entrepreneur and co-founder of seven companies, including Zillow, Hotwire, Pacaso, and Supernova, spoke about some key trends that he considered to be fueling innovation in the industry. Two that stood out to me - mainly because of Facebook's recent rebrand and the fact that I work with a handful of tech/engineering minds - were the Metaverse and Web3. I think I'd be doing Spencer a disservice to try and paraphrase his points, so read what he had to say about these trends earlier this year.
The day concluded with an awesome poolside cocktail party! From the sushi bar to the cookie dough cart, the 360° photo booth to the great conversations, this was quite the community-building event!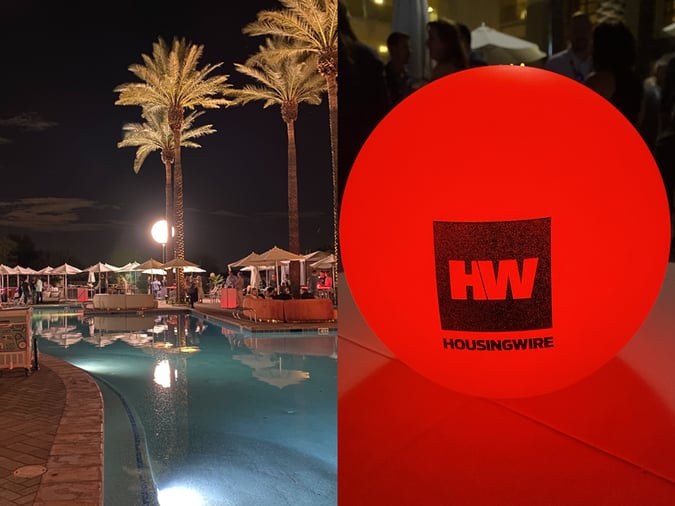 After some early morning meetings and packing up my bags to head back to Buffalo, I could only make the Reaching Homebuyers in a Purchase Market session on the last day - but what a great session to close out my time in Scottsdale!
Jodi Hall, President & COO of National Mortgage Bankers & Americasa, shared the importance of "equipping lenders with all of the tools they need and then training referral partners for synergy." Jodi Hall also added that using technology helps remove the "transactional elements of lending" and allows lenders to focus on building relationships and establishing themselves as trusted advisors.
Montell Watson, Director of Diversity Lending & Strategic Partnerships at Movement Mortgage, spoke about "education as a strategy" and how they partner with churches, schools, and other community organizations to "meet homebuyers where they are." Dan Catinella, Chief Lending Officer at Total Expert, agreed that "everything starts with education" and spoke about the importance of "helping originators build their digital presence." Dan recommended that lending institutions look at social media as a company initiative and work to provide bulleted topics to originators to help guide their messaging. A lot of food for thought when considering mortgage marketing strategies for 2023.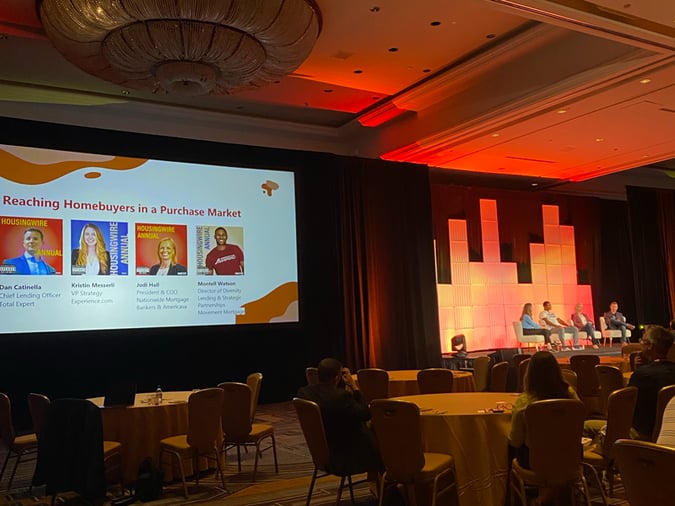 Here are the overarching themes I took away from HousingWire 2022. I highly recommend that mortgage and real estate professionals add this to their "must-attend" conference list for 2023.
There is just as much opportunity in the industry as there is disruption.

You're late to the game if you're not leveraging social media and video content.

Now is the time to drive efficiency with tech. And the tech that impacts lead flow will lead in growth.

Market volatility isn't new and isn't going anywhere. Maintaining a growth mindset is critical.
Thanks for reading! 😊


---

Emmi Sauls is the Director of Marketing for LenderLogix. She has worked in marketing for eight years and has been a part of the LenderLogix team for a year and a half. Emmi lives by the quote, "business has only two functions – marketing and innovation," and joined LenderLogix because of their explosive growth in the mortgage technology space. Emmi is a graduate of Canisius College, Alpha Kappa Psi alumni, a 2022 Trailblazer winner, and lives in Buffalo, NY.