Background
Michigan First Mortgage (https://MichiganFirstMortgage.com) is the mortgage lending division of Michigan First Credit Union, which manages more than $1.4 billion in assets. Headquartered in Lathrup Village in Southeast Michigan, the credit union's history dates back to 1926. In 2017, it expanded its financial products to include mortgages by acquiring Watson Financial Group forming Michigan First Mortgage. Between 2020 and 2022, Michigan First Mortgage's originations averaged around 2,000 units and $438 million in volume (SOURCE: HMDA).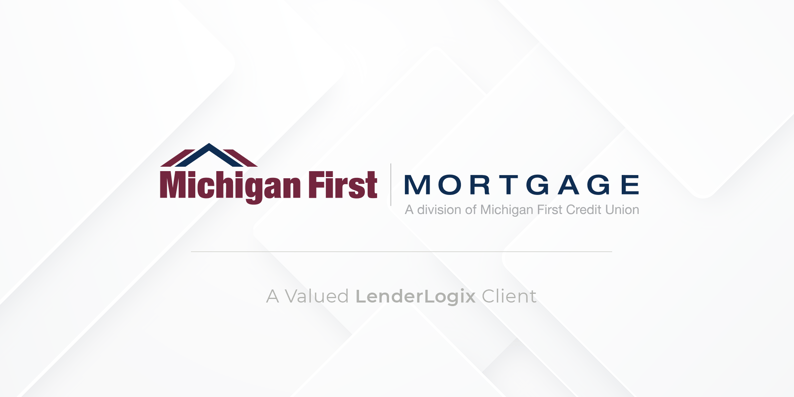 Challenge
Like many lenders, Michigan First Mortgage relied on a highly manual process to collect upfront fees from loan applicants. Loan officers would be responsible for prompting borrowers to submit payment for processing, which was highly inefficient. Michigan First is an organization focused on ensuring an exceptional member experience. With the manual process, the experience was clunky for borrowers and not up to standard. Given that Michigan First Mortgage had doubled its origination volume since inception, the team realized the existing processes were untenable as the organization continued to grow. It needed to find a compliance-friendly solution that would mitigate risk for borrowers and sought a program that would:
Automate the upfront fee collection process;
Eliminate key person dependencies;
Provide a secure means of collecting sensitive borrower payment information;
Ensure compliance; and
Deliver a seamless, digitally-driven borrower experience.
Solution
After contacting LenderLogix to learn more, Michigan First Mortgage's Chief Mortgage Lending Officer Dan Sugg knew instantly that this tool could help his organization collect fees more efficiently in a secure manner that was up to the Credit Union's standard.
"Because we are associated with a financial institution, we first looked into partnering with our card issuer to collect these payments. After exploring our options, at the end of the day it just wasn't economical or efficient compared to what Fee Chaser could do for us," Sugg explained.
Fee Chaser is the leading payment processing platform designed specifically for the mortgage industry. With Fee Chaser, lenders can streamline operations, ensure compliance, and deliver homebuyers a five-star digital mortgage experience. The platform integrates directly with Encompass® by ICE Mortgage Technology™ and allows lenders to automatically request payment information from borrowers once the loan has reached certain milestones or retain control over the payment requests.
From the start, the Michigan First Mortgage team was impressed with LenderLogix's commitment to getting the organization live on Fee Chaser as rapidly and smoothly as possible.
"LenderLogix was extremely hands-on and proactive throughout the implementation process. They worked directly with the credit card vendors to get us up and running quickly, and immediately accommodated any product customizations we needed," said Lindsey Banes, Mortgage Technology and Finance Analyst at Michigan First Mortgage. "The only heavy lifting we had to do was creating a workflow for our internal teams and ensuring they understood the borrower's experience through Fee Chaser."
Results
Reduction of Compliance-based Risk
Per the Payment Card Industry (PCI) Data Security Standard, lenders cannot store credit card information within a loan file. Fee Chaser ensures lenders comply with the PCI standard while providing a more secure means of collecting payment information.
"Previously, our loan officers would have to ask the borrower to complete the payment manually, often leading to some awkward conversations and, in a few cases, outright resistance from borrowers. We needed to find a partner that would work with us to ensure personal and financial information remained secure, while meeting the high compliance standards set by Michigan First," Banes noted. "Fee Chaser not only eliminated the compliance risks, but helped us maintain strong security during our fee collection process by providing our borrowers with a secure, private payment tool that aligns with the experience delivered by our point-of-sale system."
Increased Borrower Retention
While Michigan First Mortgage's policy has always been to collect appraisal fees upfront, the manual nature of the process could lead to inconsistencies in fee collection, resulting in added expenses for loans that fell out of its lead pipeline. With Fee Chaser, Michigan First Mortgage now collects these fees more consistently. As a result, borrowers are more willing to see their loan application through to closing because they have a financial investment in the transaction.
"In our first few years of operation, our financial statements reported a tremendous expense related to appraisals due to the inconsistency of our fee collection process," Sugg said. "Now, we are consistently collecting appraisal fees from borrowers at the start of the transaction, which has reduced our costs significantly, and have far less fallout or pull-through issues."
Improved Operational Efficiency
Thanks to Fee Chaser's integration with Encompass® by ICE Mortgage Technology™, loan processors and/or loan officers can issue payment requests from Fee Chaser as they update the loan file. This has reduced key person dependencies for payment processing and ultimately saved time.
"We have worked with LenderLogix for almost two years now. Fee Chaser has saved us so much time and effort with added security for our borrowers, and their support is top-notch. Implementation was fast and painless, and they customize our product as needed. We could not be happier," said Banes.
"LenderLogix as a whole has been a great partner," Sugg added. "We are a mortgage lender inside a nearly 100-year-old credit union, and this partnership with LenderLogix has helped us stay up-to-date with technology as we grow. Overall the program has been very good for us. Our growth will take us beyond Michigan at some point. Fee Chaser has not only kept pace with our current growth, but from our perspective, it will play a key role in helping us accelerate that growth."
---