How are your borrowers computing monthly payments when they're looking at houses? We consider this a fundamental question every mortgage originator needs to ask themselves. We live in a monthly payment world. Car dealers figured out long ago that the most effective advertising featured a vehicle's monthly payment, not price, and today, actual vehicle prices have become but a footnote.
Mortgage loan officers know this as well. Veteran loan officers will remember handing out sliding paper calculators for payment estimates since borrowers didn't have access to the all-powerful HP-12c. We don't have to tell you that times have changed. Providing a genuine, digital mortgage experience is paramount to success.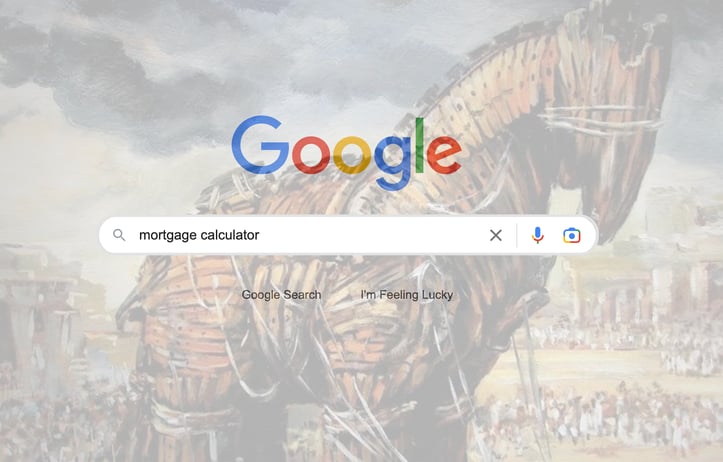 Now, everyone walks around with a device in their pocket that provides instant answers with one search. For example, "mortgage calculator" was searched 3.4 million times a month in 2022. With over 407 million results, it's just too easy for prospective buyers to wander into another lender's marketing funnel. Cue the "silent competitor" that's betting they can be your borrower's payment calculator of choice.
Understanding the Competition
While great for eager borrowers who want that instant insight, these one-size-fits-all calculators are bad news for today's local originators. They're not built with accuracy in mind but instead act as clickbait. They're well-designed lead-generation tools utilizing highly sophisticated technology with one goal: redirecting your borrowers to another lender.
Go ahead and Google "mortgage calculator" to see for yourself. The first page of the results is full of websites like NerdWallet, BankRate, SmartAsset, etc. Sure, you'll find slick and easy-to-use calculators as you click into the results, but you won't see the tracking pixels behind each headline. Unfortunately, these pixels are exactly what lands your prospects in "finance with us" drip campaigns that last for months on end.
These "competitors" generate billions of dollars in revenue by anticipating your borrower's payment questions, nailing the SEO, and selling your borrower to the highest bidder, all without ever having to originate a single loan.
The Greek-Inspired Strategy
Everyone's heard of The Trojan Horse story. In case you haven't, let me give you the cliff notes. According to ancient mythology, a huge, hollow horse was built to be left as an offering to Athena, a goddess of war, but instead allowed the Greek soldiers to take the city of Troy. This story is a favorite around LenderLogix HQ, and you may have heard our CEO speak about it once or twice.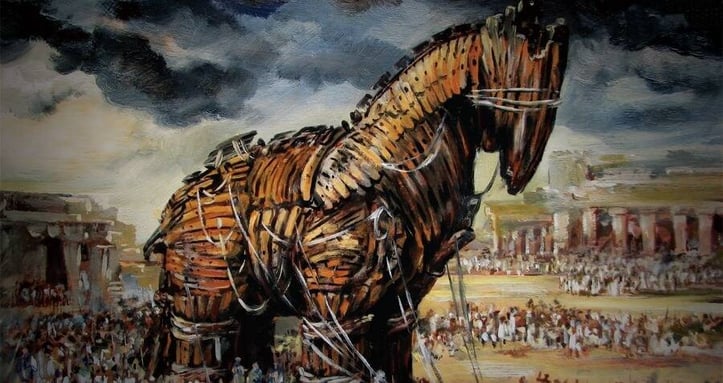 A painting of the Trojan Horse.
So what does this ancient Greek myth have to do with this clickbait strategy?
The silent competitors' SEO strategy is today's originators' own Trojan Horse.
By ignoring the signs and limiting the tools you offer today's borrowers, you're throwing in the towel to those with the means to purchase the leads from these competitors.
So how do local lenders fight back?
This is simple. Give the people what they want before they go looking somewhere else! If you know what questions your prospective borrowers will ask, you should do everything you can to answer them proactively. Better yet, you should be empowering them with the digital tools needed to answer them themselves.
Some take it upon themselves to build their own mortgage calculator on their company's website. While this may be helpful for prospective homebuyers, it certainly isn't personalized to each borrower's circumstances. Not to mention that the calculator's success as a lead generation tool is contingent on prospects knowing it exists. And let's face the facts here, your marketing budget for paid advertising will never compete with these big names.
So why spend the time and effort building and maintaining one of your own mortgage calculators? Instead, we recommend exploring technology that fits this need with little to no cost of ownership for you and your team.
Invest in technology that converts.
Most originators send borrowers off with nothing more than a PDF pre-qual and a static payment and closing cost summary. We all know that leaves borrowers with questions as they start looking at houses.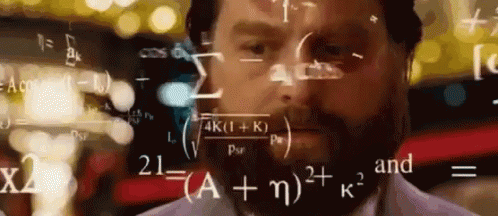 A real-life look at your borrowers computing monthly payments without support.
"What if I put 5% down instead of 3%? What if we went with FHA instead of Conventional? Can I afford to increase my bid? Will the closing costs be impacted?"
Today's loan officers expect to manage these conversations over phone tag and long email chains. Subsequently, they find themselves working all hours of the day on something so incredibly transactional in the grand scheme of origination.
Tomorrow's loan officers are working proactively to empower confident and informed homebuyers who convert. They're doing that with the help of solutions like QuickQual.
QuickQual is the mortgage industry's only LOS add-on that gives homebuyers access to run real-time payment and closing cost scenarios, compare side-by-side loan products, and update letters as they shop for their dream home. Configured based on the Max PITI and cash to close you've approved them for, QuickQual provides the most accurate financial insight at the most critical conversion stage for borrowers.
Branded to your bank and individually tailored to each of your mortgage leads, technology like QuickQual produces big results for local IMBs, credit unions, and banks.
Strategic digital mortgage initiatives win.
Keeping borrowers in your ecosystem rather than the target of an endless supply of advertisements is easy with the right tools in place. Of course, loan origination will continue to be a people's business. However, technology can (and should) still add a little pizzazz to your personal touch. In this case, it can be the driving factor for increased conversions. Are you playing to win?
---