The most meaningful mortgage software is built by people who understand what lenders AND borrowers are actually looking for. And what better way to design mortgage technology for the next generation of homebuyers than to tap into that generation for insight? Cue Dominic Wright, our newest Junior Software Developer.

Dominic graduated in 2022 with a degree in computer science, focusing on software development and seamless UI experiences. He brings a fresh perspective to our product team and has already significantly impacted our solution roadmap for 2023. His passion for simple yet creative software development will undeniably add value to our lending clients.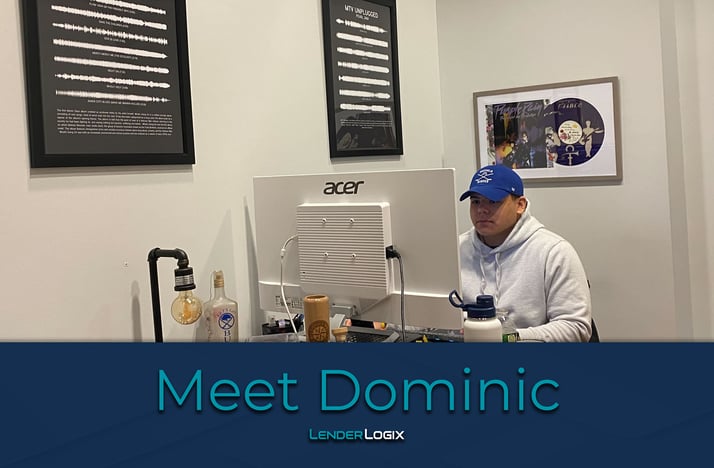 The Developer
What was your previous role and what attracted you to LenderLogix?
Previous to joining LenderLogix, I attended college at SUNY Cortland for Physical Therapy but decided to transfer to SUNY Brockport to pursue a bachelor's degree in Computer Sciences.
Graduating college and looking for your first job is a tough process. There are various aspects of finding a company that suits you, namely: finding a job that is near where you live, the position is something that aligns with your talents/abilities, offers good benefits, and is a place you can envision yourself growing with. LenderLogix checked all of these boxes, and I'm beyond happy I applied and got the job.
Once you have been working at a company for a while, you begin to ask yourself, "What has kept me here? Why do I stay?". After reflecting on the last 8 months, I asked myself that question, and I instantly knew it was because of the team we have. The culture is just unmatched.
WFH, Hybrid or In Office - what's your jam?
I absolutely love working from our office, and although I don't mind working from home, I'd rather be in the office. Our office space is beautiful from an architectural standpoint. However, I believe the team we have here is the best part about working from the office. They are always there when you need help and there for you when you need a good laugh, too.
Any takeaways you'd like to share about your time here so far? Have you felt that you've grown in your career since joining us?
Since joining the team, my knowledge as it pertains to software development has grown exponentially. Being in the workforce and working on real-world problems, coupled with having amazing mentors, has allowed me to grow more than I could have imagined in such a short period of time.
What is your favorite success story so far?
Since joining LenderLogix, I've had the pleasure and opportunity to work on a handful of different projects, but one that I am most proud of is creating a usage report view for one of our products. The usage report displays a company's overall statistics within any given timeframe in a graphical view, as well as a table view that shows each employee within that company and their statistics. Data is money.
You work on the Tech/Development/Nerd team at LenderLogix. What does a day in the life look like for you? What do you like best?
On a daily basis, I'm usually troubleshooting issues or handling feature requests from customers.
The thing I like most about what I do is learning new things every day. You can't put a price on gaining knowledge and getting better at what you do day in and day out.
What advice do you have for emerging talent in the field?
If I had one piece of advice to give to emerging talent in the field, it would be don't be afraid to try and definitely do not be afraid to go outside your comfort zone. I think it's important to challenge yourself, whether that is in your field or any aspect of life. Even if you didn't quite accomplish what you set out to do, there's so much knowledge that you have gained that you wouldn't have if you didn't try.
---
The Dude
What's your personal mantra, and where did it come from?
My personal mantra comes from a saying my father says regularly and has also become a mantra for our office: "Ain't nothin' to it, but to do it." Although the saying is simple in nature, I feel it is forceful and motivating.
Hobbies?
My hobbies include playing basketball, playing records and playing cards with friends and family.
What can't you live without?
I often think about this, and I usually always come to the same conclusion: music. I have Prince's Purple Rain record in my office and two killer plaques honoring Marvin Gay's What's Going On and Pearl Jam's MTV Unplugged. And anyone on the team can tell you that my headphones are always in. Music has the unparalleled ability to improve our physical and mental health, as well as enhance productivity and concentration.
What would the title of your autobiography be?
The title of my autobiography would be, "When the Going Gets Tough, the Tough Get Going." The title pays a little homage to Billy Ocean, who wrote a song with the same title in 1985.
What's the last book you read?
The last book I read was Grit by Angela Duckworth. The book discusses the power of perseverance and passion, as well as addresses the "big secret" that leads to success.
What's something we should know about you?
Something about myself that I like to tell people is that I am one of six children, and then I proceed to tell them all of the "fun" stories of growing up with four older siblings.