It takes a special talent to turn an idea sketched out on a sheet of paper into a viable solution that's already used by hundreds of loan officers across the US and he did just that. Meet Jeffrey Kopra, our Senior Software Engineer.
Jeff graduated in 2014 with a degree in Software Engineering. It's no surprise that he took his education, experience, and talent to bring our point-of-sale (POS) solution, LiteSpeed, to life! He continues to bring fresh ideas and contagious humor to the LenderLogix team.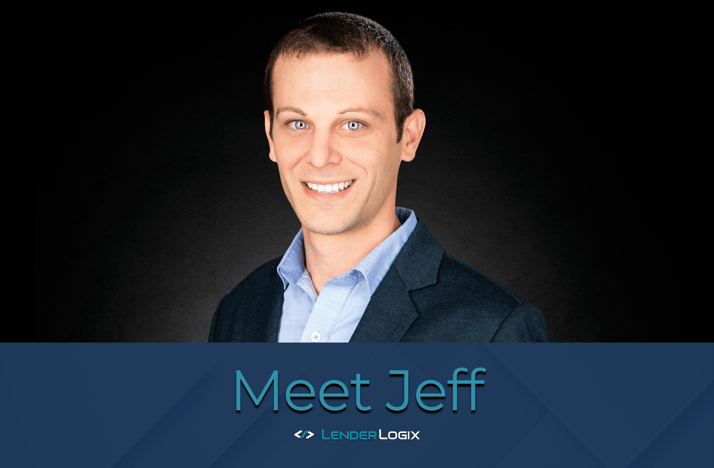 The Developer
What was your previous role and what attracted you to LenderLogix?
I have a background as a software developer in the healthcare industry, where I worked on various projects ranging from customer portals for a local provider to architecting front-end applications for large-scale patient record healthcare systems. Throughout my career, I consistently encountered a common challenge: the struggle to drive innovation as a developer. This was primarily due to the rigid structures and processes in place, which often hindered the realization of innovative ideas. At LenderLogix, things are different. We're a company driven by an unwavering determination to provide our customers with cutting-edge solutions that empower and transform their businesses.
What has kept you here?
It's an amazing startup culture that's unlike anywhere else. It's an energizing and lively environment where collaboration, creativity, and innovation thrive. The LenderLogix team is open to new ideas and taking risks, and that's why I feel like I can truly make an impact here. And the team is like a family, and the supportive leadership makes it so inspiring and fulfilling to work here.
WFH, Hybrid, or In Office - what's your jam?
I'm all about that flexible life! I absolutely love the office vibes and the constant buzz on new things happening, but I cherish the freedom to work from home, too. As a dad, it's essential for me to be there for my family whenever they need me. Whether it's witnessing (or starring in) a spontaneous TikTok, or rocking on my sons' rocking horse on a Zoom while working from home, I'm all in for a balanced work-life blend.
Any takeaways you'd like to share about your time here so far?
Listen closely to your target audience. Developing software is one thing, but creating a solution that people truly want and addresses their needs is the key. The crucial aspect lies in continuously iterating based on valuable feedback.
What is your favorite success story so far?
Choosing just one is tough, but if I had to, it would be the unforgettable experience of surviving the 2021 snowstorm. It turned out to be a surreal day at the office with only myself and our CEO, Pat braving the weather. And wouldn't you know it, my first appearance in Pat's infamous TikToks happened! Okay okay, while that was an amusing success, my actual favorite is the launch of our POS, LiteSpeed. Starting from scratch and developing it by going through an iterative process until it was ready for prime time was incredibly rewarding. Every night, I review the metrics and I'm still amazed by the significant impact this product has had on our clients.
You work on the Tech/Development/Nerd team at LenderLogix. What does a day in the life look like for you? What do you like best?
You may have noticed a similar post before, but this short function perfectly captures the essence of my daily work routine...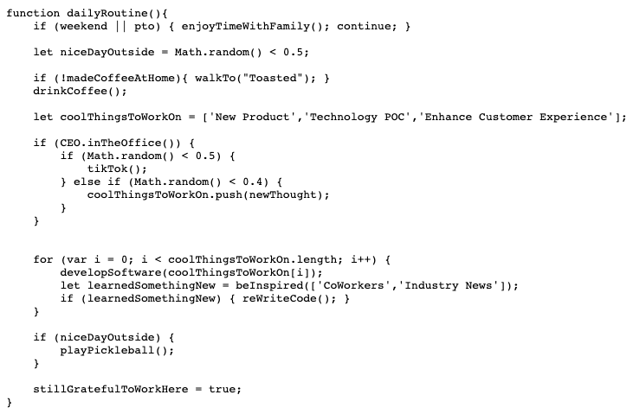 But seriously, the thrill of solving problems and seeing my solutions come to life is the best part of what I do! There's immense satisfaction in transforming ideas into tangible products, crafting innovative solutions, and making a positive impact. It helps that the dynamic nature of the tech industry keeps me engaged and constantly learning new things.
What advice do you have for emerging talent in the field?
Networking is crucial in the tech industry. It's something I'm continuously working on myself. Connecting with like-minded professionals and building a strong network opens doors to fresh perspectives and valuable insights you may have never considered. You never know where life may lead you, as it was through my previous networks that I found my way to LenderLogix.
---
The Dude
What's your personal mantra, and where did it come from?
"Embrace challenges, ignite creativity, and conquer possibilities," has been a guiding principle in the back of my head ever since I first heard it at a tech conference shortly after college. This manta encompasses my ideal approach. I'm reminded to wholeheartedly embrace challenges as opportunities for personal growth. It encourages me to constantly bring fresh ideas to the table. With a determined mindset, I strive to conquer fears and explore new possibilities, always pushing myself for more.
Hobbies?
In my limited spare time, you can find me in my workshop tackling a home renovation project, out playing sports and staying competitive, or embarking on family travels to discover new destinations.
What can't you live without?
Rosie's homemade ice cream has become an essential part of my life. It's my irresistible temptation, and no matter how hard I try to resist, its unique homemade flavors always find a way to bring a sweet touch to my week.
What would the title of your autobiography be?
"Byte by Byte: Unforgettable Memories and Lessons Learned" - gotta sprinkle in some developer humor for good measure!
What was the last book you read?
The Ride of a Lifetime: Lessons Learned from 15 Years as CEO of the Walt Disney Company
What's something we should know about you?
I have an appreciation for a well-crafted stout or a fine glass of whiskey. So, if you're ever in the mood to share a drink and enjoy the good times, I'll gladly be your enthusiastic drinking buddy. Cheers to enjoying the finer things in life!