We are firm believers that product adoption & usage are the most important factors to consider when determining success. So logically, we knew from the beginning that we needed a strong Customer Success department. Thus, came Serina "Fire" Callea.
Serina has been in the Real Estate industry for over five years and has spent fourteen years in customer service roles. She brought tremendous value to our team when she joined in 2019, having used some of our technology in the field herself. She continues to be invaluable to our company as she serves as one of our clients' main points of contact. Her passion for education and problem-solving and her commitment to creating opportunities for homeowners perfectly position her on our team.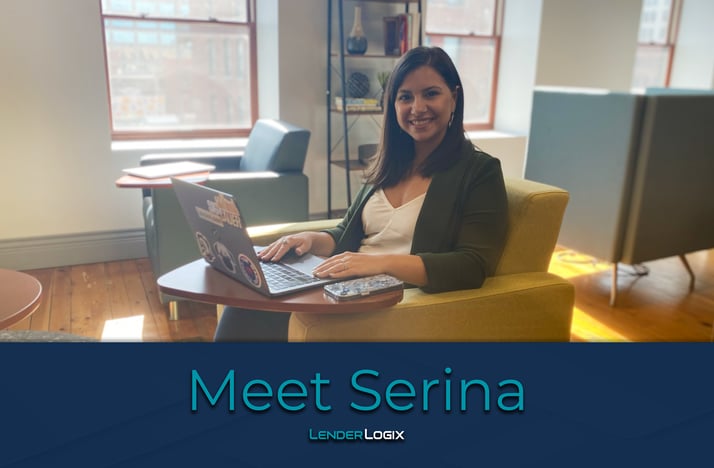 The Product Expert
What was your previous role and what attracted you to LenderLogix?
I was previously a full-time Real Estate agent and fell in love with QuickQual (one of our products) because it was convenient for my business. Being able to get 24/7 access to adjustable pre-approval letters for my buyers brought hearts to my eyes!
So when the opportunity came to get involved with the company behind the tech, I couldn't resist! I get excited talking about it because today, I educate loan officers on QuickQual to help better their business. I still sell houses on the side, but what we do at LenderLogix is my passion.
Love that, Serina. What has kept you here?
I really enjoy educating loan officers and Realtors! Seeing our customers' faces when I introduce them to our products is enlightening. Our new customers always say, "why didn't I get this sooner!?" Alongside educating loan officers on our tech, I also enjoy building long-term relationships by being their point of contact for any questions they may have while using our products.
WFH, Hybrid or In Office - what's your jam?
I absolutely love coming into the office! I am always learning new things while working alongside our product engineering team. The more I know, the better I can assist our customers and ensure we meet their needs.
Any takeaways you'd like to share about your time here so far?
Enjoying the work environment is a plus when working for LenderLogix. Everyone is helpful, supportive of one another, and we all know how to have a good time. Cheers to loving who you work with - it makes a big difference!
What is your favorite success story?
I am proud to look back and share that I started the Customer Success department here at LenderLogix! And with that said, I have so many favorite stories that picking one is hard. However, nothing feels better than seeing loan officers leave their firms and quickly reach out to me to onboard them at their new companies because they love our products and ongoing support THAT much. That shows me that I've built meaningful relationships that provide lenders with noticeable value. Now, that's Customer Success!
What does a day in the life look like for you?
Day in and day out, my top priority is assisting our customers.
Some days I work with our Operations and Engineering teams to configure our solutions to meet new customers' needs. On other days I'm in back-to-back Zoom training calls with loan officers and their Real Estate partners to ensure they're getting the most out of their solutions. And on occasion, I meet with our internal teams to pitch product updates based on customer feedback. So much of our product roadmap is informed by real-time client feedback, and I take pride in being their voice.
Additionally, the relationships I build with our customers make an excellent opportunity to cross-sell any additional products to help their business be more profitable. Their success is our success!
What do you like best about what you do?
I enjoy seeing loan officers, borrowers, and Realtors work together with our digital mortgage tools. It makes me happy knowing that I onboard and educate loan officers coast to coast on tech products that help them optimize time management and expand their referral and lead business.
What advice do you have for emerging talent in the field?
If you get excited about sharing your insight, excel in teaching, and are passionate about building meaningful relationships, then Customer Success is for you! It may sound too simple, but the two best pieces of advice that I could give are "be genuine" and "know your stuff."
---
The Personality
What's your personal mantra, and where did it come from?
"You win some, and you lose some," as my father would say after placing a bet on horse racing. So even if something doesn't go as you wish, you must hold your head high and move forward.
Hobbies?
Does being a huge foodie count? My love for food started while living in NYC in college, where I was immersed in a world of taste. While some probably look at grocery shopping and cooking as chores, I just adore it. I continue to find joy in trying new cuisines and have definitely bonded with my clients over "must-try" restaurants and bars when traveling. I have a sweet tooth so I always save room for dessert. My favorite cake is strawberry shortcake!
I also love music. So whenever a country artist is in town, that's where you'll catch me!
What can't you live without?
I can't live without the love and support of my family. My family's support truly doesn't compare to anything in this world. And I'm so thrilled to share that I have recently created a beautiful family of my own, getting married in 2021 and welcoming a sweet baby boy to the world in 2022.
What would the title of your autobiography be?
"Serina 'Fire' Takes on New Adventures"
What's the last podcast you listened to?
The last podcast I listened to was Back to the Beach with Kristin and Stephen. This podcast is about what really happened behind the scenes of the show "Laguna Beach," a teen reality show that aired on MTV when I was in middle school. Who doesn't like to watch a little reality TV? #guiltypleasure
What's something we should know about you?
I am new to motherhood and spend most of my free time playing with my son and watching him grow. Thankfully he likes watching sports just as much as mommy does! Go Bills!