To be a subject matter expert (SME), one must be equally passionate and curious. We're proud (and lucky) to say that our Sales gal Olga Faynshteyn is just that!
As a Millennial herself, Olga is motivated to help mortgage lenders reach this next generation of homebuyers across the country. Her people skills, paired with her skin in the game as she looks to buy her first home, position her perfectly to advocate for lenders to innovate.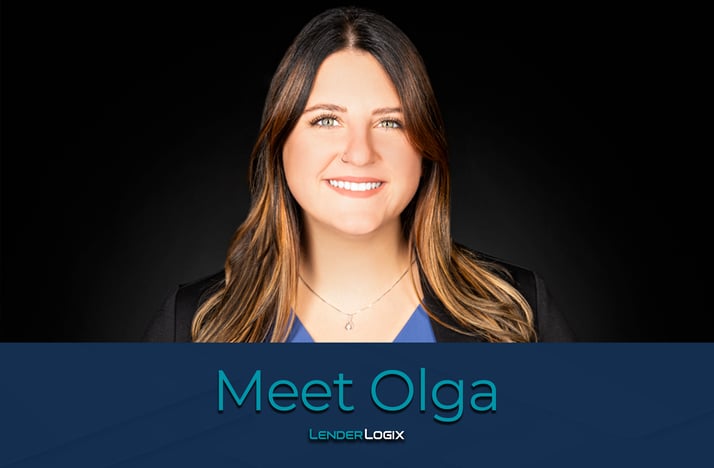 The Sales Gal
What was your previous role and what attracted you to LenderLogix?
Before working at LenderLogix, I worked a few hospitality and sales roles, including an SDR role that connected me with the LenderLogix founders. I moved to another company from there but always said I'd end up here, and that's exactly what happened.
Our solutions are just as incredible as the team behind them. I'm sure I'm not the only salesperson who worked in a role they didn't feel passionate about or stand behind what they were selling, so I'm super grateful to be in a position that I'm excited about and that challenges me regularly.
Challenge leads to growth! What has kept you here?
That it does! I've definitely grown so much over these last 3+ years.
The people. I can't say enough good things about the LenderLogix team. We're small but mighty, and everyone lends a hand where they can. It doesn't stop there, though - we have such incredible clients that we get to work with, and from attending conferences, I've met even more amazing people in the industry.
WFH, Hybrid or In Office - what's your jam?
I'm in the office most days of the week, but I love the occasional WFH day. Now that the sun's out in Buffalo, it's hard to stay away from the office. We're in such a great location, and some of the team loves a competitive game of pickleball.
Any takeaways you'd like to share about your time here so far?
You can always learn something new. I've been with LenderLogix since May 2020, and my knowledge about the mortgage industry has grown exponentially. And even when I think I know everything about a specific topic, I learn something new.
What is your favorite success story?
When I started with LenderLogix, the thought of running a demo to show how our solutions worked and speaking with executives made me nauseous. So, with a little push from Pat, I ran my first demo alone. I might have been shaking the whole time, but a few years later, they're a multi-product customer of ours, and I'm reminded of that first demo every time I speak with them.
What does a day in the life look like for you?
Demos, meetings, and more demos. I've had a pretty full calendar since the market started looking up again, but I wouldn't change it for anything. I find that I do my best when I'm slightly overwhelmed, so the more I have on my plate, the more excited I am to get those things done.
What do you like best about what you do?
The people I interact with everyday whether it's coworkers, clients or prospects. I'm such a people person.
What advice do you have for emerging talent in the field?
The best advice I can give for emerging talent in Sales, especially SaaS Sales, is that not everyone will be the right fit. Once you accept that, you'll feel much more confident in your role and understand your ideal customers. Sales is so much more than closing a deal; helping someone with the solutions you sell is such a rewarding part of the process.
---
The Personality
What's your personal mantra, and where did it come from?
"It is what it is." I tend to stress over things that are out of my control and my fiancé has been saying this to me for years.
Hobbies?
I love live music more than most things. My friends and I go to a lot of live music events both locally and throughout the country. It helps that Buffalo has an awesome music scene.
Anything outdoors too. I love being in the sun, and there are few things better than reading a book in a hammock on a sunny day.
What can't you live without?
My circle - I'm blessed with some of the best people (and animals) in my life.
What would the title of your autobiography be?
"Trial and Lots of Error"
What's the last book you read?
The Perfect Marriage by Jeneva Rose. I love a good fiction novel, especially thrillers with fun twists and turns.
What's something we should know about you?
I LOVE dogs! If you have a dog, I definitely want to hear all about it, and pictures are a must. I'll show you Shiloh (and his infamous TikTok) too! 😊🐶