Bad news… Rocket Mortgage is the number one mortgage lender in the US. Good news… Rocket Mortgage is publicly traded, so they have to divulge A LOT of information.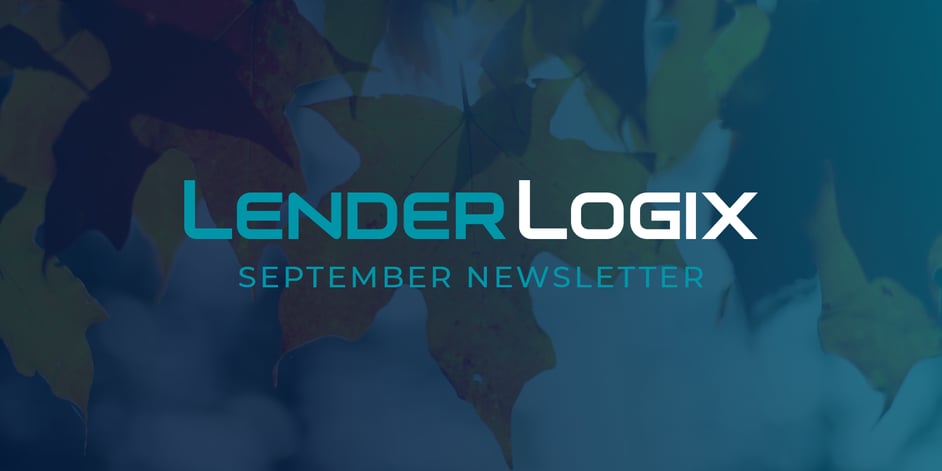 Good News, Bad News 💰
If you're in the mortgage business, Rocket's quarterly earnings call is a must listen.
Here are a few takeaways from their most recent call:
Rocket's Consumer Direct business (the lion's share of their originations) yielded 417 bps Gain on Sale vs the industry average of 335 bps (per MBA). Translation:

They're the number one lender with HIGHER interest rates than their competitors.

😳
Rocket is developing a consumer credit card product as part of their Rocket Money suite, which they'll use to generate mortgage leads by capturing borrowers much earlier in their home buying journey 💳
Santander Bank (

a top 40 US Bank!

) handed over the keys to their mortgage business to Rocket. Check out what you get when navigating the

mortgage page on Santander's website

. I wonder who's next? 😬
We mortgage people love to hate them, but remember: success leaves clues.
- Patrick O'Brien, CEO of LenderLogix
---

From The Team's Bookmarks 📌
Here are a few resources our team put together that we found interesting or helpful over the last month. And, of course, we included a couple of links for everyday use, because why not?
- Economic Review for Sept 2022
- Creating an API-Centric Culture
- Stats to Watch In a Changing Market
- Home Affordability Hits New 35-Year Low
- 10 Things an Originator Should Do To Succeed
- Podcast: HousingWire Clayton Collins on IMBs & iBuyers
- For Those Interested in Joining the Mortgage Action Alliance
- 30 Recipes to Make in September
- 2022 Emmy Winners List (Our Favorite: Ted Lasso)
---
A New Artificial Intelligence Tool 🤓
Have you heard of DALL·E yet? While it sounds like a Pixar movie, it's actually a narrow artificial intelligence tool that creates amazing images and art from a natural language description.
This means you can type something like "A couple getting the keys to their new vacation house on the beach in the style of Pablo Picasso" or "A dog signing paperwork to buy a new house" and get images like this: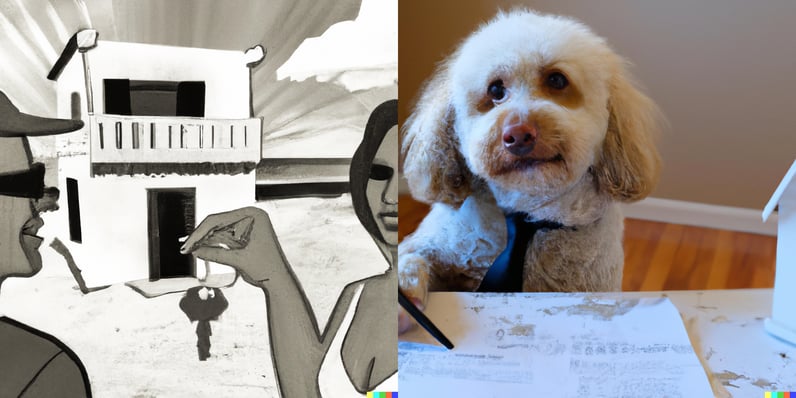 While this might seem like a silly site to create pictures of dogs in ties, imagine the possibilities of how technology like this might be applied to other areas - including the mortgage industry. If you want to try out DALL·E for yourself, you can join the waitlist for access or send us an email (marketing@lenderlogix.com) with your image suggestion and our tech team will create it for you!
- Scott Falbo, CTO of LenderLogix
---
September & October Conferences ✈️
It's been a busy month with lenders nationwide gathering in some major cities to network, learn and grow their businesses. Of course, we wish we could attend them all... but you'll only be able to catch Patrick and Olga at ACUMA's Annual Conference, Emmi at HousingWire Annual, and all three at MBA Annual.
Feel free to shoot us a message if you're attending one of those conferences and would like to connect!
Here's some of the mortgage conferences and events on our radar:
9/13 - 9/15: National Mortgage News Digital Mortgage
9/15 - 9/17: NAMMBA CONNECT
9/18 - 9/21: ACUMA Annual Conference
9/21 - 9/22: New England Mortgage Bankers Conference
10/3 - 10/5: HousingWire Annual
10/11 - 10/14: Todd Duncan's Sales Mastery
10/23 - 10/26: MBA Annual
---
Speaking of ACUMA... 🏦
In case you missed it, we announced last month that we're now partnered with the American Credit Union Mortgage Association to provide credit union members with mortgage automation software.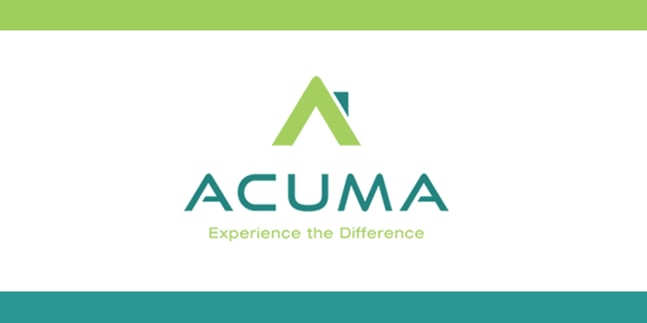 In our press release, Patrick O'Brien shared, "Today's Credit Union members expect access to the latest technology when financing a home. Since Credit Unions have a distinct competitive advantage when working with their members, we believe that layering in automation technology can take their lending success to the next level." Read the full statement here.
---

Speaking of Partnerships, we've struck GOLD 💪
LenderLogix is officially a Gold ICE Mortgage Technology™ Partner. We are one of only two companies that hold this partnership level (based on their Marketplace) and we're proud to announce this accolade.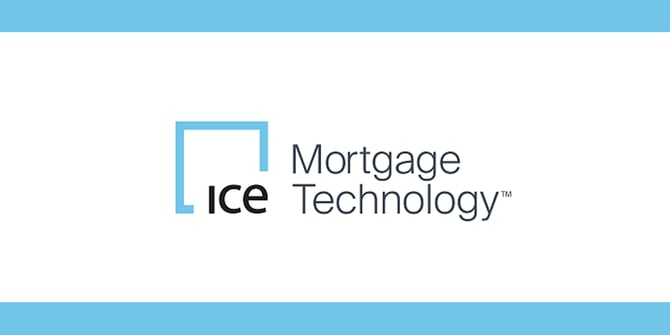 Lenders using ICE Mortgage Technology™ Encompass® can innovate and own their user experience by enabling our solutions within their Encompass environment.
Built on the latest Partner Connect API Platform, we provide lenders with the ability to issue adjustable pre-qualification & pre-approval letters and request upfront fees directly from Encompass. Stay tuned for a major case study dropping next month!
---
Mercury's in the Microwave? 🪐
Just kidding, just kidding. But seriously, if you're on any form of social media, you've likely seen that Mercury is in retrograde. So what does that mean, and why do people care? Let's take a quick look because we were curious too.
Retrograde motion is when a planet appears to reverse direction. This happens due to an optical illusion caused by differences in orbit. This isn't new - it was actually one of the earliest mysteries founded by astronomers.
And in the realm of astrology, this motion has some pretty major negative connotations. For example, Mercury is said to rule communication and this retrograde motion supposedly causes frequent misunderstandings, scheduling problems and disagreements.
To make this even more interesting, 6 planets are actually in retrograde right now: Mercury, Jupiter, Saturn, Uranus, Neptune and Pluto. Check out this article for the schedule, a breakdown of what each planet impacts and how they'll affect your zodiac sign (if you're into that type of thing, like our Marketing Director).
So how did this phenomenon become so popular that we're seeing it trending on TikTok, Twitter and apps like Co-Star? Well, people like hyper-personalized experiences. In this Time article, the author shares that "changes in technology have a significant influence on how people engage with astrological insight."
Unrelated but also not, mortgage technology trends aren't much different.
Personalization is and will continue to be key for consumers.
---

---
Vendors vs Partners 🤝
Identifying the right mortgage automation software can often come down to the credibility and authority of the company supplying it to you.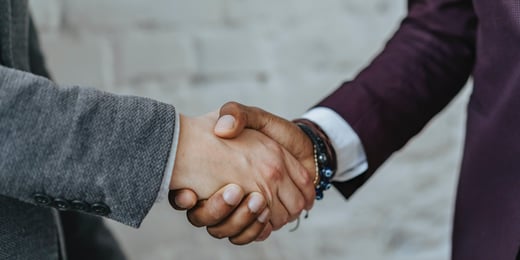 In our latest blog, we share 2 key differentiators between vendors and partners, and a handful of helpful tips for making your selection. Check it out here.
---
Quote of the Month:
"Where would you rather be than right here, right now?"
– Marv Levy, Buffalo Bills Legend
---
Interested in signing up for our newsletter? Only subscribers get access to all of the updates, giveaways and insights. Click the button below to subscribe!