In 2009, Quicken Loans originated one out of every one hundred mortgages in the United States. In the first quarter of 2020, Quicken Loans originated one out of every ten.
Let that sink in.
Later this week, the number one mortgage lender in the land is set to go public, and the accompanying S-1 lays bare the inside information they probably wish they didn't have to share. For anyone involved in mortgage lending, this is a treasure trove; 387 pages detailing how Rocket Mortgage has gobbled up market share on their way to ousting Wells Fargo as the country's top mortgage lender.
I've read through it a few times, and it's as overwhelming as it is fascinating. I've pulled out what I think are the most interesting excerpts, and I really think it's must read for anyone that makes a living in mortgage banking. A link to the full document is here, but if you'd rather read the Cliffs Notes, you've come to the right place. At the bottom of the summary I've included excerpts from the financial statements which give insights into margins, average loan attributes, production expenses, etc.
---
Rocket Mortgage offers clients speed and simplicity backed by industry-leading automation created through our proprietary software platform and centralized operations. Traditionally, a single processor sequentially performs most loan origination functions. Our process separates these functions to create specialization among team members, automates key steps and prioritizes workflow. Our technology provides our client specialists visibility into the loan process and enables our loans to close faster and more efficiently than industry averages. In 2019, we closed 6.7 loans per month per average production team member, compared to the industry average of 2.3 according to the Mortgage Bankers Association. In 2020, our year to date average has grown to 8.3 loans per month. The result is an unmatched client experience that has earned us recognition as #1 for Mortgage Origination by J.D. Power for the past 10 years—every year we have been eligible for the award.
As a result of our operational excellence, in 2019 we achieved overall client retention levels of 63%, and refinancing retention levels of 76%, which is approximately 3.5 times higher than the industry average of 22%.
Our growth potential is significant. The U.S. residential mortgage market remains highly fragmented. As the largest retail mortgage originator according to Inside Mortgage Finance, we serve 9.2% of an over $2.0 trillion annual market. As adoption of online mortgages increases, we expect to drive further market share growth. Of the clients that applied using our online platform or app, 75% are first-time homeowners and/or Millennials. As a result, we expect our growth to accelerate. As these groups mature and continue to demand a more digital experience, we anticipate that their previous positive experiences with Rocket Mortgage will result in repeat business and further growth of our Company.
Additionally, our cutting-edge technology systems are powered by a significant amount of data. In 2019, we had interactions with over 20 million prospective clients. We have long-term mortgage servicing relationships with approximately 1.83 million client loans. Our technology and data science teams are proficient in leveraging this rich data to streamline the client experience, to improve the efficacy of our marketing campaigns, and to offer products and services suited to each client's specific circumstance.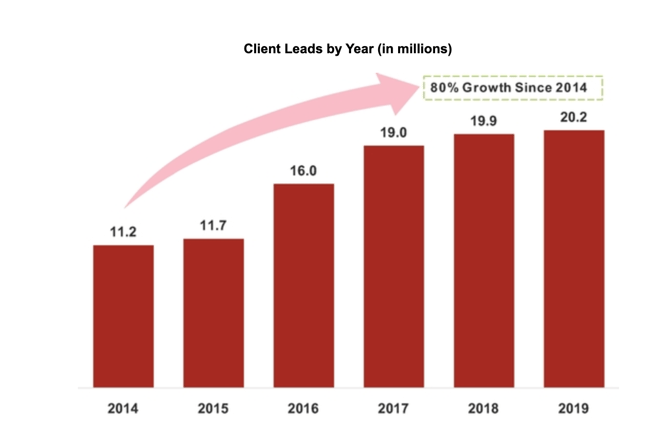 We have over 250 experienced marketing team members in our in-house advertising agency focused on every aspect of the client lifecycle. We create and execute innovative marketing strategies to identify and reach target audiences, engage with interested clients, and promote the client experience. We also rely on our Core Digital Media business, a leading online marketing and client acquisition platform, to generate additional leads. We have invested considerable capital in our brand. Since our inception, we have invested over $5 billion in marketing, including over $900 million for the year ended December 31, 2019.
While we increase brand awareness through sophisticated marketing, there is no better brand builder than a positive client experience. By providing a positive upfront origination experience, coupled with award-winning servicing over the life of the loan, we establish a long-term relationship with our clients. Servicing a client's loan allows us to remain in contact with our clients and stay current on their financial needs. For example, we rely on insights gained from servicing to offer solutions to clients when they can benefit from a more cost-effective mortgage. As a result of this approach, in 2019 when clients chose their next mortgage, we had overall client retention levels of 63% and refinancing retention levels of 76%, which is approximately 3.5 times higher than the industry average of 22%. In 2020, our year to date average has grown to nearly 75% overall client retention.
Our size and technologies allow us to utilize specialized sub-groups to automate the processing and review of data and documents based on a set of predetermined rules-based workflows. Specialization in each step of the origination process allows us to create experts in each task, enabling our team members to rely on their expertise to quickly solve problems and provide greater certainty to close for our clients. This task-based specialization also results in shorter training time for new team members, enabling us to quickly ramp up operational capacity. Our approach is a true differentiator, allowing us to quickly scale the workforce to match demand and the size of the pipeline.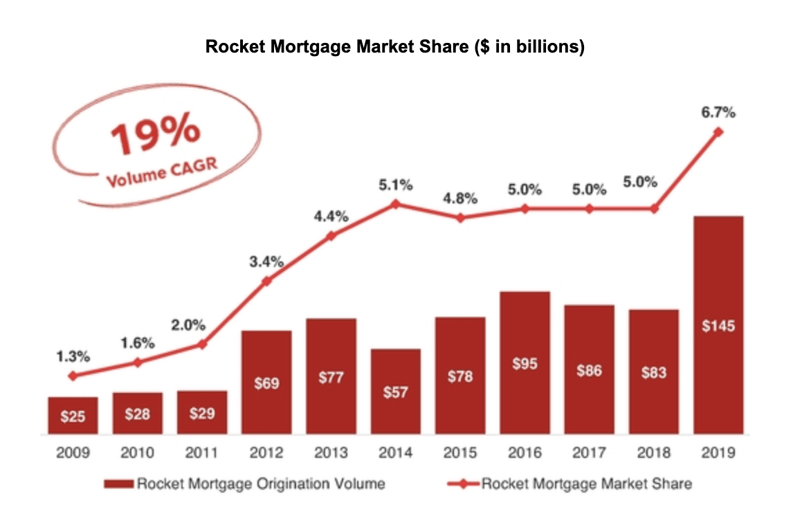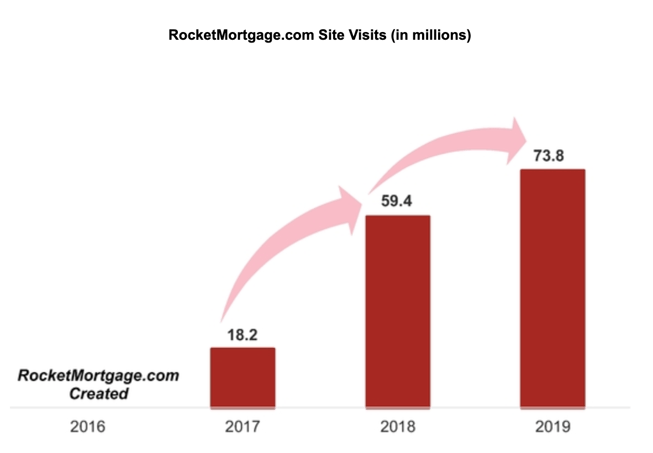 Our internet marketing efforts depend on data signals from user activity on websites and services that we do not control, and changes to the regulatory environment (including the California Consumer Protection Act), third-party mobile operating systems and browsers have impacted, and will continue to impact, the availability of such signals, which may adversely affect our digital marketing efforts. In particular, mobile operating system and browser providers, such as Apple and Google, have announced product changes as well as future plans to limit the ability of application developers to use these signals to target and measure advertising on their platforms. These developments have limited and are expected to limit our ability to target our marketing efforts, and any additional loss of such signals in the future will adversely affect our targeting capabilities and our marketing efforts.
We also rely on app marketplaces like Apple's App Store and Google Play to connect users with our apps. These marketplaces may change in a way that negatively affects the prominence of or ease with which users can access our apps. If one or more of the search engines, app marketplaces or other online sources were to change in a way that adversely impacted our ability to connect with consumers, our business could suffer.
The efficiency of our proprietary technology and process is evident in how a majority of our loans close within approximately 32 days from our receipt of client documents compared to approximately 43 days on average for the industry. In addition to being faster than the industry, we are also more efficient due to our investment in technology and unique workflow processes. In 2019, we closed 6.7 loans per month per average production team member, compared to the industry average of 2.3 according to the Mortgage Bankers Association. In 2019, our average grew to 8.3. As we are obsessed with finding a better way for our clients, we have made and continue to make investments focused on improving our processes to further increase efficiency.
Amrock is a leading national provider of title insurance services, property valuations and settlement services. This business complements our mortgage origination platform by providing services that enhance our ability to close loans as efficiently as possible. Our technology helps to streamline and clarify the real estate experience across the appraisal, title and closing process which further enables the speed of our platform. In 2019 our average loan closed within approximately 32 days or less after the Company's receipt of client documents. Nexsys Technologies LLC ("Nexsys") provides further efficiency and enhances the client experience with e-close technology. We believe these seamless and personalized services differentiate Amrock from competitors and inspire client loyalty and referrals.
The majority of Rocket Mortgage's loan programs require a property appraisal that is prepared by a licensed and/or certified appraiser. Amrock maintains a nationwide network of independent appraisers as well as internal appraisers and support teams to manage the ordering, fulfillment, logistics and tracking of appraisals. Amrock uses various technologies to aid in the review of appraisal assignments and values to detect fraud and/or errors.
Amrock's gross revenue, before eliminations, was $197.9 million and $97.8 million for the three months ended March 31, 2020 and 2019, respectively, and $558.6 million, $407.1 million, and $480.8 million for the years ending 2019, 2018 and 2017, respectively.
Core Digital Media is an online marketing and lead generation service provider in the mortgage, insurance and education sectors. Core Digital Media is a generator, buyer and seller of leads for third parties and for Rocket Mortgage. Core Digital Media owns and operates several marketing platforms, including "LowerMyBills.com," that connect clients with providers of home loans, auto loans, personal loans, and auto, life and home insurance. Acquired in 2017, Core Digital Media has become an important component of our performance marketing strategy. Core Digital Media enables growth for our broader ecosystem by offering unique insight into the lead generation market and allows us to introduce innovative marketing programs designed to increase the conversion rates for online leads.
Core Digital Media generated over six million client leads for mortgage and other industries in 2019. Core Digital Media's unique ability to consistently generate high quality leads, coupled with Rocket Mortgage's superior client experience, has driven higher conversion rates and has aided our market share growth in Rocket Mortgage. We also leverage Core Digital Media's capabilities in cross-marketing our products and services to clients across our ecosystem.
Core Digital Media's gross revenue, before eliminations, was $60.5 million and $56.7 million for the three months ended March 31, 2020 and 2019, respectively, and $237.2 million, $205.0 million, and $95.3 million for the years ending 2019, 2018 and 2017, respectively.
Rocket Homes is a digital platform creating a seamless, integrated home buying and selling experience for clients nationwide. Through Rocket Homes, prospective clients can search for homes online, find a real estate agent or seamlessly connect to Rocket Mortgage to seek financing for their homes.
Rocket Homes manages a partner network of more than 15,000 real estate agents and has assisted over 500,000 clients with their home buying and selling needs. All of our partner agents are pre-screened to ensure they can demonstrate exceptional client service, knowledge and experience in their local communities. Real estate agents choose to work with Rocket Homes because they can leverage our brand and client acquisition engine, receiving quality leads for clients looking to purchase or sell a home in their area.
Rocket Mortgage, Rocket Homes and our partner agents have a symbiotic relationship, as referrals are more likely to lead to a mortgage and real estate transaction, increasing profitability for each party. We earn a commission on real estate transactions we refer to our network of real estate agents. Rocket Homes enables our broader ecosystem's growth by improving the quality of experience for our clients and by increasing the conversion rate for Rocket Mortgage.
We unveiled a new Rocket Homes website in 2018, rockethomes.com, which features powerful home search functionality. Along with traditional data like the number of rooms, square footage and price, the Rocket Homes website also provides neighborhood information including market trends, housing supply and the level of demand for housing in the specific areas consumers are looking to buy or sell in. The home search feature is currently available in 17 states and is continuing to be rolled out nationwide.
We also own ForSaleByOwner.com, a leading online marketplace exclusively focused on clients that would like to run the process of selling their homes without enlisting help from a real estate agent. When people sell their homes, they often are looking to buy another home. ForSaleByOwner.com allows us to connect with these sellers earlier in the cycle of their transaction, provide value-added services for the sale of their home and introduce them to financing solutions with Rocket Mortgage should they look to purchase a new home. Additionally, should our clients decide they need the expertise of a real estate agent, we can leverage the Rocket Homes partner network to connect them to a highly qualified professional.
Rocket Homes gross revenue, before eliminations, was $8.8 million and $7.5 million for the three months ended March 31, 2020 and 2019, respectively, and $43.1 million, $35.6 million and $33.5 million for the years ending 2019, 2018 and 2017, respectively.
Rock Connections is a sales and support platform specializing in inbound and outbound contact center services. We offer additional services like appointment setting and scheduling, prequalifying prospective clients, lead generation, lead and efficiency consulting, and providing proactive solution oriented reporting and analytics. We leverage technology and data to strategically target and connect with the prospective clients that are most likely to transact—improving conversion rates and providing a greater return on marketing investments. Additionally, we supplement our superior targeting with sales support from team members who have gone through our industry-leading training processes. Our team members have developed considerable skill in cultivating relationships with our clients and assisting them through the initial buying decisions.
Rock Connections seeks to strengthen brand reputations and drive value for the businesses it represents. Our ability to facilitate product sales through our Rock Connections contact center business has supported our consistent growth in the mortgage business and has fueled our early success in Rocket Auto. Rock Connections team members provide significant support to our bankers in the Rocket Mortgage business by handling clients' initial queries, collecting appropriate information and providing a warm hand-off to bankers at the appropriate stage to ensure best quality service to clients.
Inclusive of Rocket Auto, Rock Connections' gross revenue, before eliminations, was $30.7 million and $33.6 million for the three months ended March 31, 2020 and 2019, respectively, and $114.1 million, $109.2 million and $74.7 million for the years ending 2019, 2018 and 2017, respectively.
The underlying fragmentation in the mortgage market is driven largely by the prevalence of the traditional brick-and-mortar retail branch model. The traditional retail model is built around the individual loan officer and is heavily reliant on the relationships they have with local real estate agents and other intermediaries. Due to this individualized approach, firms have not invested in improving outdated processes and technologies or creating a scalable platform. The dependence on individual parties in the traditional model de-emphasizes the importance of the platform, which has resulted in a highly labor-intensive loan application process characterized by low operating leverage, making it difficult to grow without hiring additional personnel. The end result has been a densely populated, fragmented market in which lenders lack the centralized platform and operational efficiencies needed to capture market share at scale.
Furthermore, the traditional mortgage application process requires manual interactions and a complex series of data-intensive transactions. These transactions involve carefully filing and cataloging thousands of pages of documents from over a dozen entities, using incompatible systems and disjointed databases. The lack of communication between the different parties requires home buyers to replicate the submission of data and paperwork to several vendors. Additionally, a lack of access to data and limited transparency throughout the process curbs home buyer choice, emphasizing the home buyers' reliance on the real estate agent during all steps of the process. These factors have resulted in a 43-day industry average time to close in 2019.
Additionally, our cutting-edge technology systems are powered by a significant amount of data. In 2019, we had interactions with over 20 million prospective clients. We have long-term mortgage servicing relationships with approximately 1.83 million client loans. We maintain 220 million unique consumer records and 150 million unique real estate records. Our technology and data science teams are proficient in leveraging this rich data to streamline the client experience, to improve the efficacy of our marketing campaigns, and to offer products and services suited to each client's specific circumstance. We generated $40 billion in application volume from AI/machine learning from 2018 through June 2020.
At the core of our platform is an advanced engine that enables the modeling, modification and management of complex loan processes and business rules. We have turned the complicated and regulatory-heavy process into a series of client-friendly questions and requests. We closely monitor the performance of any new initiatives with tangible data and metrics, including days to close, team member efficiency and client satisfaction.
This process partitioning has allowed us to identify many areas that could be automated. These automated processes produce true objectivity and greatly reduce human error. Our system has been designed to integrate across business functions allowing them to collaborate harmoniously within our secure environment. Our system accomplishes this automation by continuously monitoring in-progress loans and leveraging our proprietary, data-driven, decision engine to recommend the most efficient task for each team member.
The next evolution of our mortgage process is RocketLogic. RocketLogic is an automated underwriting product we are currently developing in-house. This product will overhaul the way we originate loans, from application to closing. RocketLogic leverages data and asks dynamic questions, resulting in client's closing their mortgage faster and with greater accuracy. This will continue to drive efficiency for our team members and bring certainty to our clients.
We have access to client financial information and needs which allows us to more effectively understand and market to our clients. Both through lead acquisition and servicing, we aggregate this information on current and potential clients. For example, knowing the details of a client's existing mortgage allows us to execute a real-time marketing campaign to targeted clients when mortgage rates drop. We also have the ability to predict based on a number of factors including age and time in home, when a family may be looking to buy a new home and will potentially need a purchase mortgage.
The scale and design of our model allows us to gather insights into and improve the client experience through measuring and recording each step in the process. We track, test and refine every step of the client journey and our users' experience. This allows us to intelligently manage our funnel of potential clients, drive conversion and continuously identify areas of potential improvement. Our scale has enabled us to experiment with various approaches to these tasks and constantly tune our strategies for user satisfaction.
Our software is designed with scalability in mind to manage a large quantity of loans. On average, we currently process more than 6,200 client applications each day, and over 8,100 applications are started each day via our website, mobile app and mobile web. The versatility and scalability of our technology provide a solid foundation for our continued growth.
Marketing Channels
Our marketing strategy has resulted in a successful 35-year track record of generating business returns in a variety of rate and economic environments. The marketing group spans multifunctional, multimedia, in-house marketing, advertising and media-buy teams. We market our services and loan programs and procure leads through several channels. We constantly test and evaluate marketing efforts, response rates and media techniques to reach prospective clients and optimize the return on marketing investments. This research has allowed us to build a proprietary engine and approach that creates significant value for our franchise.
Currently, the main channels through which we market our services and loan programs are:
Internet Media: We market through paid and organic web search engines, online web ads and other online directories. Our Core Digital Media business creates innovative online client lead generation programs to increase consumer response and conversion.
Relationship Marketing: We develop client loyalty and referral programs, tailored e-mail and direct mail marketing campaigns, real estate and relocation company relationships, and data mining practices through information service providers.
Third-Party Home Loan Referral Networks and Online Lead Aggregators: We work with a wide range of networks and aggregators who connect us with potential clients.
Broadcast Media Advertising: We utilize direct response radio, television, print and outdoor advertisements.
New Media Advertising: We participate on several social media and internet applications, including Facebook, Instagram, Twitter, YouTube, Yahoo Answers and mobile phone apps.
Earned Media: We make unpaid placements in print and broadcast on the housing market and benefit from media coverage of our sponsorships of sports events and leagues and community initiatives.
Partner Network: We work with our influencer and marketing partners to make targeted offers to relevant portions of their client base.
A combination of the efficiencies from our proprietary technologies, our specialized marketing teams, and the growth in our servicing portfolio and our partner network have led to an increase in conversion of client leads to closed loans. This increase in conversion has allowed us to continue to grow our mortgage origination volume without increasing the number of client leads at the same rate.
We utilize proprietary technologies and algorithms to make the most of each contact and lead received from a prospective client. These technologies allow us to route all calls and inquiries, along with any available data we have regarding the prospective client, to a mortgage banker who is available at any one of our locations. We have a marketing team that is specifically dedicated to allocating these leads to the most appropriate banker based on the information received and the workflow of bankers within the system. Once routed, the lead is prioritized and monitored to ensure mortgage bankers respond promptly. These technologies have increased our success in connecting with clients and finding the best solution to fit their needs.
We have marketing teams dedicated to each marketing channel that can promote a lead program or campaign. This allows us to efficiently generate and manage traffic to our website and calls to our web-centers.
The robust data we generate through our servicing business enables us to make informed offers to clients who could benefit from a more cost-effective mortgage via a refinancing or a new home purchase client who in addition to a mortgage can also benefit from a personal loan from Rocket Loans. Our data science team incubates and monitors potential leads until a data trigger determines the optimal time to connect.
Relative to some consumer-driven technology industries with loss-leading products, we price to be profitable on the first transaction. Any subsequent product or service that we are able to sell to a client, including a mortgage refinancing in the future, are designed to produce a higher marginal profit.
Gain on sale revenues can vary across products and channels based on the specifics of that channel.
For example, our Direct to Consumer segment provides us with higher gain on sale margins, on average, than our other channels. However, the Direct to Consumer channel requires a higher amount of operating expenses through a significant investment in brand marketing and client acquisition.
In contrast, our Partner Network segment produces lower gain on sale margins. However, client acquisition cost are also lower and incremental overhead costs are minimal. For this reason, we achieve significant operating leverage from our Partner Network and see this segment as a key part of our growth engine.
A mortgage which is originated from our servicing book has lower client acquisition costs compared to a mortgage originated in the Direct to Consumer segment. This is why we see our servicing book and related recapture originations as a key strategy for continued growth and profitability.
Our platform and technology create a significant financial advantage for client acquisition. Our investments in our brand and performance marketing allow us to have significant leverage. We lower our average client acquisition costs through our sophisticated marketing capabilities which create an ability to convert a higher number of our leads into applications.
Once a loan has moved into application status, our automated operations deliver an advantage in both cost of processing and quality. We have fewer manual touchpoints which reduce the cost to process the loan. As our loans are processed more quickly, the ability for loans to fall out due to competition, rate changes, or other errors is reduced. This provides us higher certainty to close which allows us to better amortize upfront costs.
Our loan process mitigates the risk for underwriting fraud as it is handled by multiple specialists rather than a single underwriter. Each loan goes through multiple specialized teams as part of the operations process, providing quality assurance and multiple reviews from underwriting through closing. This process allows us to protect against fraud and errors without delaying the overall time from application to close. Additionally, unlike the more traditional loan officer compensation model that is based on number of mortgage approvals, the Rocket Mortgage compensation model rewards our team members for the number of loan applications processed. We believe the focus of our compensation model on applications, rather than approvals, better aligns economic incentives with compliance and regulatory requirements.
We experience delinquency rates in our servicing portfolio that are much lower than the industry average, with the percentage of UPB of mortgages that are 60 days or more delinquent in payments of 0.92% as of March 31, 2020. Rocket Mortgage's FHA Compare Ratio of 43% as of March 31, 2020, is the lowest FHA Compare Ratio of the top 20 mortgage originators by FHA closed loan volume during that period. The FHA Compare Ratio is calculated by the FHA and represents the default rate of a single lender compared to the default rate in the FHA's total mortgage portfolio. This robust loan process also reduces potential liability under our representations and warranties to purchasers of our loans in the secondary market.
As the leading technology-focused mortgage originator, we believe we are uniquely positioned to take advantage of consumers shifting to the use of digital channels. Home buyers have come to expect the convenience of accessing real-time market information and financial services from the internet and their smart devices and have become accustomed to on-demand services as the standard method of interacting with service providers. Consumers are increasingly moving toward a digital-first relationship with their financial services providers and have come to expect a seamless client experience, with flawless execution at much faster speeds than with traditional models. We believe our significant investment in our technology platform and team members over the last two decades has given us the infrastructure required to capitalize on these trends.
We believe that the shift towards the digital channel will lead to a more concentrated industry, with industry leaders taking advantage of their economies of scale and brand. We expect the market over time will more closely resemble other large consumer-focused industries with a handful of major players capturing significant market share. As the number of consumers seeking a mortgage through digital platforms continues to increase, we expect to leverage our scale and brand to win these clients by providing a top-notch client experience and the fastest time to closing.
Speed is critical in the mortgage approval process. We have already accelerated the speed to close for many of our clients, which is enabled by our centralized operations and the unique way we have split the mortgage origination workflow into a series of discrete, parallel steps, improving efficiencies and limiting unnecessary bottlenecks.
Millennial homeownership rates, at approximately 32% today, significantly lag the rates of Generation X and the Baby Boomer generation. There are approximately 67.5 million Millennials between the ages of 20 and 34, representing the potential for an increase in demand over the next few years.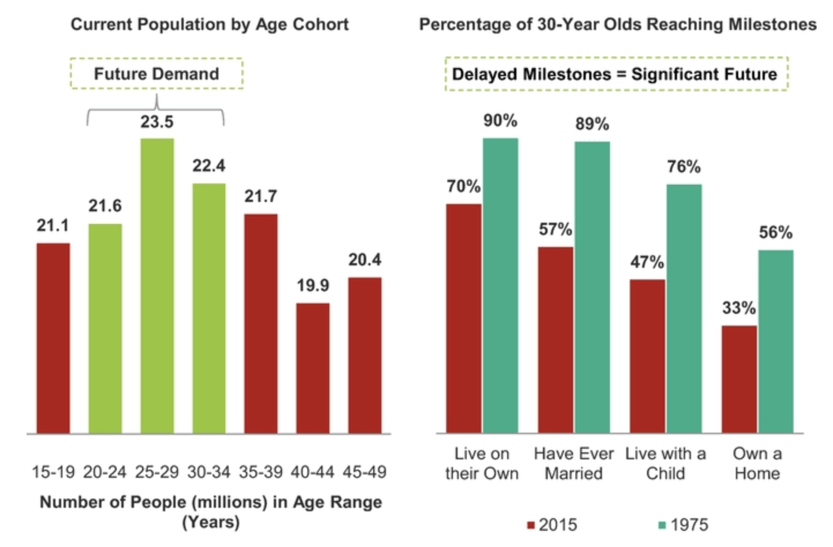 While Millennial homeownership is low today, it remains a top priority among approximately 70% of Millennials, indicating the potential for a substantial increase in home purchases is on the horizon as they continue to build wealth and also benefit from the expected intergenerational wealth transfer from the Baby Boomer generation. Additionally, Millennials' demand for tech-savvy services is expected to grow.
Growth Vectors Enabling Expansion
We plan to leverage our current strengths to fuel further expansion. We will continue to drive growth through fully capturing the cross-selling opportunities within our ecosystem, investing in key relationships with strategic partners, driving our domestic brand name recognition internationally and continuing opportunistic acquisitions.
Cross-sell: Through our online servicing portal we engage with our clients on a monthly basis, which helps us drive efficient and cross-channel leads for our other products. As existing Rocket Mortgage clients log on to make monthly payments, check balances and utilize our other services, we are able to market customized Rocket Loans and Rocket Homes offers directly to them. This connectivity, provided by our mortgage platform, is a differentiated way that we guide existing clients toward our other product lines. We believe that our clients' trust in and appreciation for the Rocket brand will continue to drive leads to other innovative products in the Rocket ecosystem.
International expansion: In addition to leveraging our mortgage platform, we also believe there are several opportunities for geographic expansion that would allow us to apply our institutional knowledge and infrastructure to provide a better client experience in geographies outside of the United States. For example, in Canada where loan origination technology is less prevalent than in the United States, our Lendesk business is currently addressing the incumbents' inability to provide similar technology-focused solutions.
Strategic growth through acquisition: We stay opportunistic and rigorously evaluate inorganic growth opportunities with strategic merit. In 2017, we acquired LowerMyBills and OpenHouse. In 2018, we acquired ForSaleByOwner, in 2019, we invested in Lendesk and in 2020, we invested in Edison Financial. Through highly strategic acquisitions, we are able to enter new markets with scale, and onboard technology solutions that can unlock incremental value by integrating with the Rocket ecosystem.