It's not news that the homebuyer demographics are changing. I thought I'd pass along some insights The Financial Brand recently shared that mortgage originators should be paying attention to.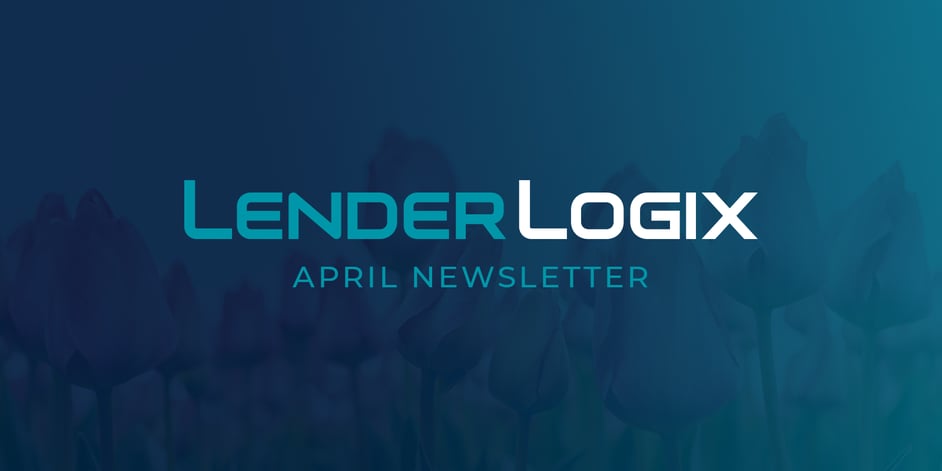 Maintaining Loyalty in Banking ♾️
"In research from the Digital Banking Report, there is still an abandonment rate in excess of 50% if the new account opening process takes more than 3-5 minutes...
There was a 103-point net promoter score (NPS) difference between respondents who could successfully open an account digitally on their first attempt compared to those who could not open the account and ended up choosing a different provider."
Now replace "new account opening" with "online mortgage application," and you've got a metric to look into. How is your online application performing? Is it driving the type of business you want it to?
By meeting your borrowers where they are, banking loyalty becomes organic.
- Patrick O'Brien, CEO at LenderLogix
---
The Latest from Our Blog 🖊️
How to Audit Your Online Mortgage Application's Performance | Learn how mortgage lenders can audit the performance of their online loan applications to ensure their prospective homebuyers convert with ease.
Employee Spotlight: Olga Faynshteyn | Meet Olga, our Business Development Representative - or, as we like to call her, our "Sales gal." She shares the story behind joining our team, why she loves what she does, and a bit about herself outside of the office.
Peak Residential Lending Builds Digital-First Mortgage Borrowing Experience | We're excited to announce that Peak Residential Lending has adopted our core products - LiteSpeed, QuickQual and Fee Chaser - to deliver a superior digital-first borrower experience. Check out the press release for all the details.
---
An Upcoming ACUMA Webinar 🎥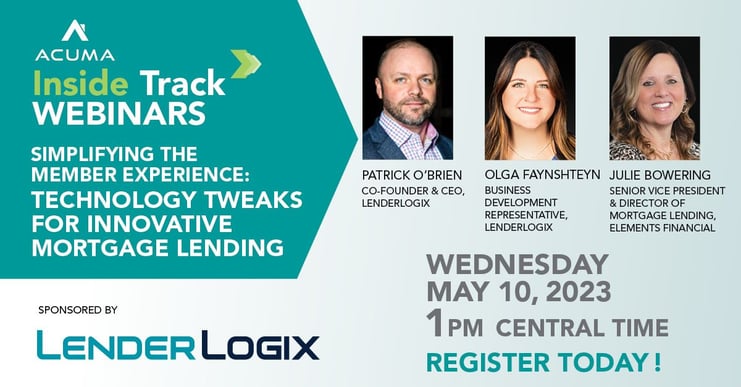 Credit unions don't need technology to understand that providing a great mortgage lending experience involves meeting the members where they work, recreate, and generally live their lives. Recent data has suggested that more than two-thirds of today's homebuyers want some mixture of traditional outreach and digital tools.
Yet credit unions sometimes balk at making even the most fundamental service changes for fear of having to redesign their entire systems. While the need for such technology is prevalent in today's market, there are ways to apply applications strategically to take better care of member needs and wants while not having to overhaul entire systems.
LenderLogix is teaming up with ACUMA for this Inside Track webinar, offering technology tips and tweaks for making the process easier and more appealing to members. Looking for the lessons in technology applications that you should have but have yet to receive? Tune in and discover how technology CAN and SHOULD work for the credit union and its members.
---
When Data Meets Trivia 🤝
We're data nerds at LenderLogix and measure the impact of every change we make to our products. So at the beginning of this year, we had a hunch that we could make our LiteSpeed point-of-sale Needs List component even smarter based on the way borrowers answer questions on the app.
We've been measuring the data for the last three months, and our hunch appears correct. That change has led to 6% more borrowers uploading a document during the initial application process. That's 6% more borrowers that feel confident enough during their initial application to take the time to provide documentation to continue the process with a lender using LiteSpeed.
Some quick trivia... What is the document most uploaded on these files?
A: Bank Statements
B: Proof of Identity
C: Paystubs
You can find the answer at the end of the newsletter.
- Scott Falbo, CTO at LenderLogix
---
From The Team's Bookmarks 📌
The usual - some stuff we thought was informative, helpful, or cool.
- Can first-time homebuyers afford homes today?
- Housing Market Tracker: Inventory falls even lower
- Mortgage performance improves as COVID-19 national emergency ends
- Mortgage App Volume Pulls Back as Rates Rise
- 30% of Adults Work from Home at Least 2 Days a Week
- [VIDEO] Finlocker Fintech Fridays with Patrick O'Brien of LenderLogix
- An Olga Netflix recommendation: Florida Man
- Sports news: Damar Hamlin cleared to resume football
- For the Kenan & Kel fans out there: Good Burger 2
---
Because who doesn't love comic strips? ✏️
Our friends at LodeStar put out some pretty cool stuff. With a collection of thought leadership-driven content, including a podcast, blog, and comic strip, these fee experts offer mortgage content and closing cost data for everyone in the industry.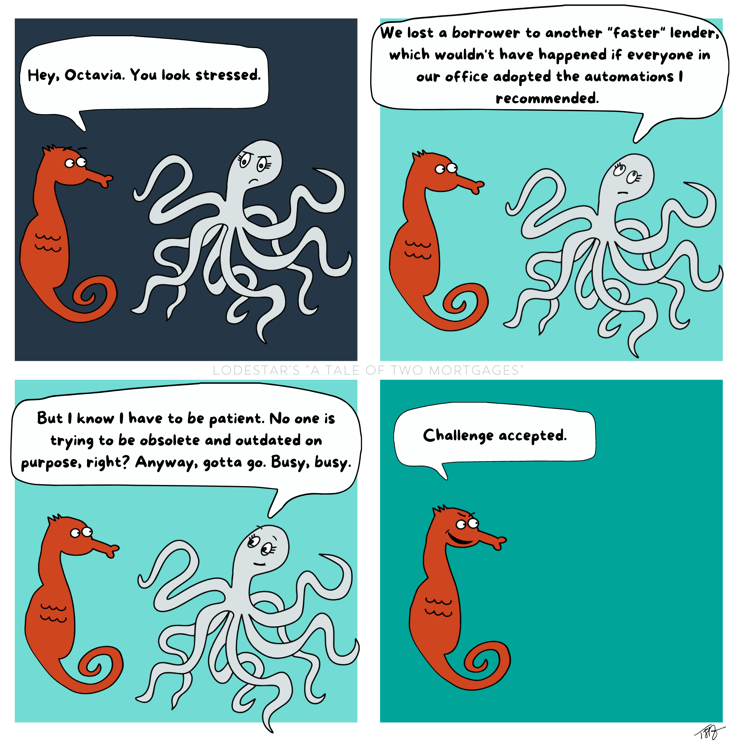 ---
Solicitors Are a No From Us 🚫
Ever have clients you're working with complain that they are getting bombarded with calls and emails with mortgage and credit offers ever since they started working with you on a new mortgage?
You probably already know that credit bureaus allow creditors to purchase lists of clients who recently had a mortgage-related credit pull performed. Unfortunately, when you pull a borrower's credit report, you are inadvertently opening them up to get a whole lot of solicitations from folks wanting to lure that client away from you. You also probably know that there is a website where consumers can block this practice and minimize or eliminate the pesky solicitations… similar to a "Do Not Call" registry.
At LenderLogix, we have options to direct your clients on how to block these solicitations at the earliest opportunity. Our new LiteSpeed point-of-sale is really cool. Upon completion of the app, not only does LiteSpeed request the borrower upload documents specific to their application (borrower indicates they receive alimony, it'll ask for a divorce decree, etc.), but it can also direct them to complete the Opt-Out Prescreen at the same time. In addition, it'll explain to the borrower why opting out is a good idea, along with the link to the Opt-Out website - super easy!
This is just one more example of how our software solutions are designed to help you and your customers remain focused on the right actions at the right time!
- Derrick Enderby, Director of Customer Success at LenderLogix
---
Social Media Marketing Compliance Tips 🔎
We know there is a ton of content out there relative to how loan officers can leverage social media marketing while remaining compliant. Here's one tidbit worth sharing as lenders ramp up their efforts for the busy homebuying season ahead... two easily avoidable mistakes to be aware of.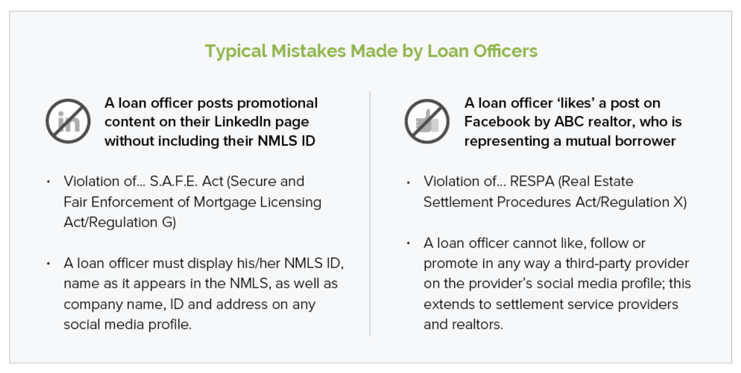 Image source: HousingWire
---
Quote of the Month:
"There are three types of people in the world. Those who can count and those who can't. Don't inflate your numbers, especially when dealing with a buyer." – Rob Chrisman
---
TRIVIA ANSWER:
A: Bank Statements
---
Interested in signing up for our newsletter? Only subscribers get access to all of the updates, giveaways and insights. Click the button below to subscribe!